1. Warp Music Festival
Location: Pattaya, Thailand
Time: June

Launching in 2015 as the first beach dance music festival in Thailand, Warp has already had two great years under its belt. This is definitely a festival you should consider making a trip for, as the entire festival is packed within a heart racing 30 hours, promising non-stop partying and fun on the tropical beaches of Saisawan. Not only is there the festival itself, Warp also features a yacht, pool, pre and after-party. On top of all this, the festival managed to land Andrew Rayel as the headliner in 2015 and Marshmello in 2016. Kicking off with such high calibre, internationally recognized DJs, Warp will definitely continue to grow in popularity and size with each year. Check out their official 2016 aftermovie to see for yourself.
2. Wonderfruit Festival
Location: Pattaya, Thailand
Time: December 15-18 (2016)
Another wonderful festival held on the outskirts of Bangkok is Wonderfruit, an environmentally conscious festival that does a more hipster take on the traditional dance festival. So far, Wonderfruit's on its third year with its upcoming 2016 lineup. Built upon six pillars of arts, music, family, farm to feasts, talks & workshops and wellness & adventures, Wonderfruit is providing South East Asia with a new, unique way of partying. From traditional Thai meditation cushions to organic detox juices, this festival is sure to excite and intrigue even the most veteran raver.

Via Buro
3. Music Circus
Location: Osaka,Japan
Time: October 8 & 9
Located on the Sennan-Tarui Southern Beach, this festival is only a 10 minute walk from the train station. Music Circus is currently on its third year of production, with Nicky Romero and Afrojack headlining, followed by Quintino, Showtek and Bass Jackers. Though this festival is still relatively young, it has had plenty of party experience; not only are they responsible for their annual festival, Music Circus is also known for having some of the best events throughout the year under their own branding. Music Circus Red Edition brings ravers some Christmas spirit in December, while Music Circus Blue Edition in May is solely dedicated to the beach. So if you're tired of the American style rave scene, why not try raving with a Japanese spin?

Via Music Circus
4. Electric Forest
Location: Rothbury, Michigan
Time: June 23-27

Madison House partners with Insomniac, the same creators of Electric Daisy Carnival, to bring this multi-genre festival alive in Rothbury, Michigan. The wide range of artists who perform at this festival makes it easy for attendees to branch out of their standard music tastes while still enjoying the amazing vibes associated with dance festivals. As the name suggests, Electric Forest occurs entirely in the midst of nature; Stages are surrounded by towering trees and shrubbery, wooden statues decorate the camp grounds and tree huts make the cutest resting places for tired attendees. Whether you want to do Yoga in the afternoon or hit up the silent disco, there's something for everyone at Electric Forest.

Via This Song Slaps
5. Tomorrowland Belgium
Location: Boom, Belgium
Time: July 22 - 24

With huge headliners like Afrojack, Armin Van Burren and Alesso, Tomorrowland Belgium is obviously an established and notable international festival. However, the magic lies within the stage designs; every year, the main stage is decked out with amazing tech, pushing the limit further with each detail. The focus on design truly makes Tomorrowland Belgium a Disneyland for EDM lovers. It is also the original Tomorrowland festival, with the one in Brazil only starting up within the last couple years. Going to Tomorrowland Belgium ensures that you'll get the full and newest experience, as stages are sometimes recycled and reused in Brazil. Their theme for this year is "The Elixir of Life", check out their epic trailer for the festival here. Still not sure whether you should go or not? Well, Tomorrowland Belgium also boasts a full service Belgian chocolate bar within the festival, serving up some of the world's finest sweets for attendees!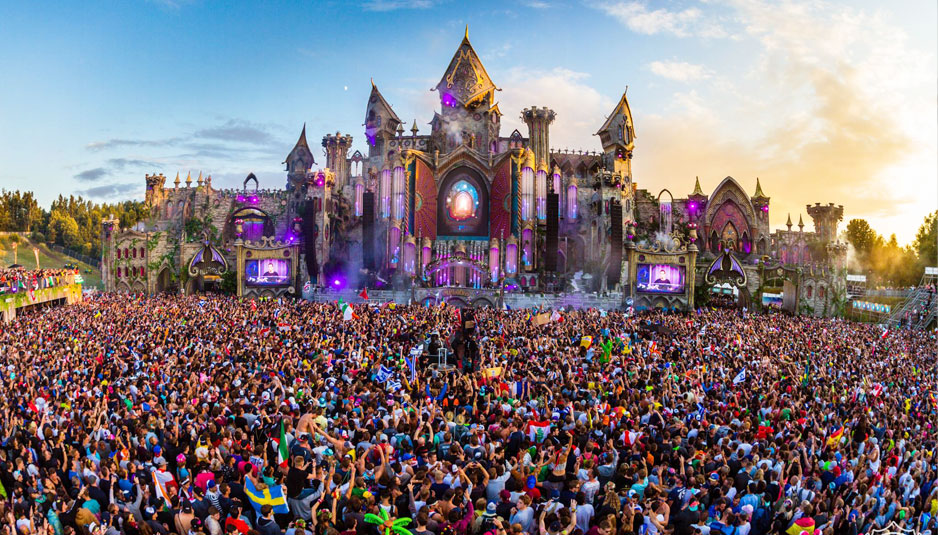 Via EDM Maniac
6. BPM Festival
Location: Playa del Carmen, Mexico
Time: January 6-15

Celebrating its 10 year anniversary this coming January, BPM Festival boasts over 400 artists and promises a "magical journey" for all those who come along for the ride. Parties are hosted both day and night in venues across Playa del Carmen for 10 days (Yes, TEN), meaning that you and all your buds can truly live out the #eatsleepraverepeat hashtag. In addition to this, Playa del Carmen features a beach town that has miles of white sandy beaches surrounded by the beautiful Mayan Riviera, making it a perfect vacation destination as well as a great place for festival attendees to chill out in between sets. So if you're a hardcore raver and think you can handle 10 full days of partying, you should definitely consider BPM as your next rave-cation.

Via Naluda Magazine
7. Ultra Miami
Location: Miami
Time: March
Ultra Miami is internationally known as an amazing festival, so it was obviously going to make this list. Here's why; It's basically the first major festival of the year, meaning that many artists tend to launch their new songs of the summer during their Ultra performance. So if you're a hardcore follower, you should hit up Ultra Miami to hear your fave artists' latest songs. Similarly, Ultra Miami is the OG version of the Ultra-branded festivals, making it the largest festival out of all the other versions, with the biggest lineup and the most outrageous set designs. Lastly, Ultra Miami is considered a pioneer amongst dance music festivals in North America, being one of the first brands to introduce the rave scene to the country, igniting the music festival trend that has only continued to grow since.

Via Exlcusive EDM
8. Stereosonic
Location: Across Australia
Time: November - December
Taking place in Sydney, Perth, Brisbane, Melbourne and Adelaide, this Australian music festival is a surefire way to fight off the winter blues. 2009 was the first year in which Stereosonic took place in all 5 cities, with the number of festival attendees growing rapidly since. Though the producers have decided to take the summer of 2016 off, they promise to return in 2017 with a bigger and better version of the original festival.
Via Triple J
9. Djakarta Warehouse Project
Location: Jakarta, Indonesia
Time: December 9 & 10
Known as the largest music festival in Jakarta, this festival has a lineup filled with big name DJs, like Hardwell, Martin Garrix and Zedd. With a sold out event last summer, be sure to get your Warehouse Project tickets early, you don't want to miss raving in the heart of South East Asia!
Via LEDSCONTROL
10. Transmission Festival
Location: Prague
Time: October
Known as the top indoor dance event worldwide, Transmission attracts thousands of visitors every year to its home base in Prague. Each year, the festival follows a story line that guides the attendee on a journey, enhanced with special effects, scenography, light shows and more. This year is sure to be exceptionally spectacular, as the festival celebrates its 10th anniversary, promising an unparalleled epic experience for all those who go. If you can't make it to the original version in Prague, Transmission festival also occurs in Bratislava, having expanded abroad in 2014.
Via Transmission